Cassville R-IV School Bus Inspection Results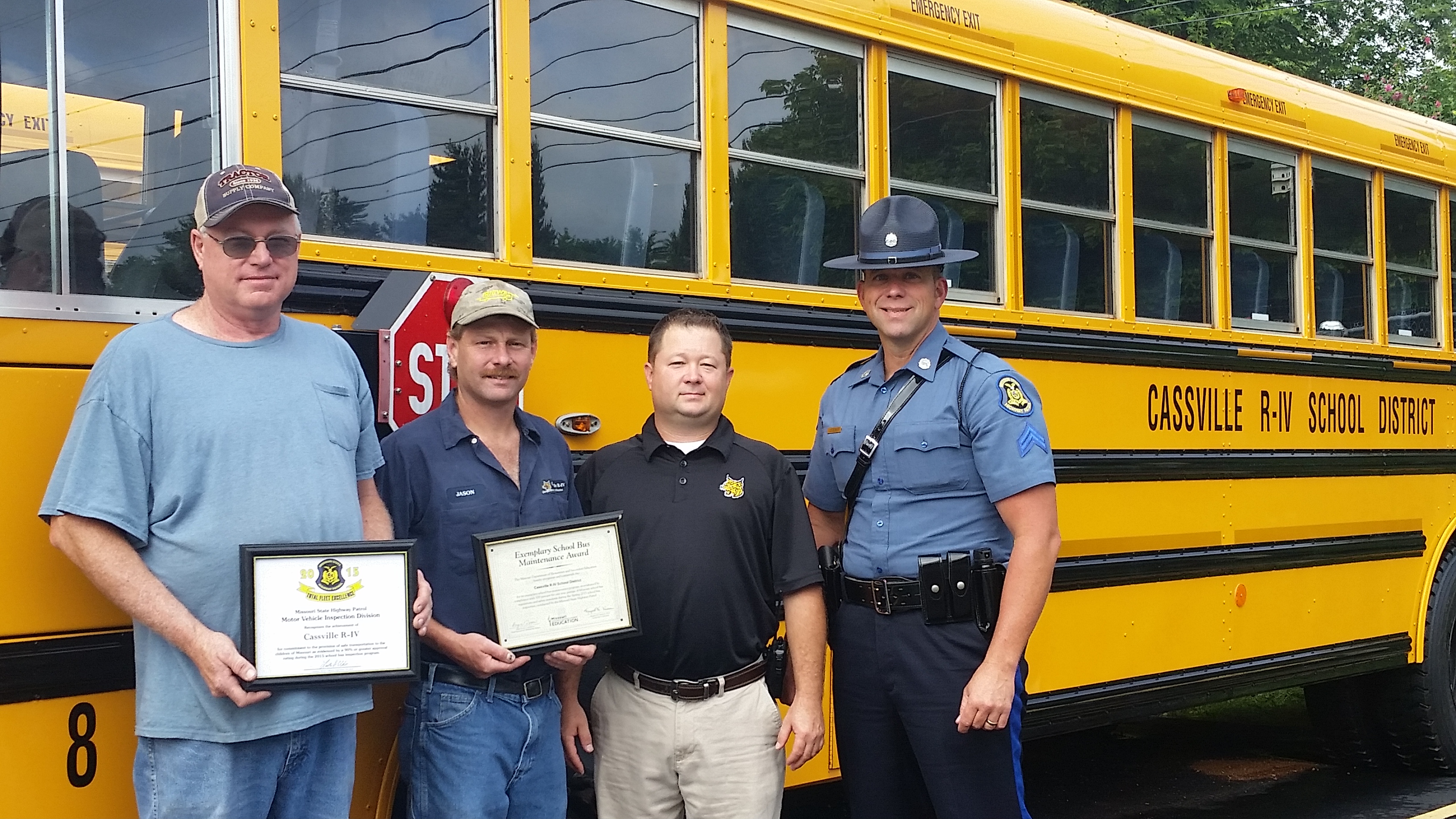 Shown in photos: Mechanics Doyle Ray, Jason Roller, Reid and Corporal John Lueckenhoff, Public Information Officer, Missouri Highway Patrol Troop D.
The Missouri State Highway Patrol has announced the results from the Motor Vehicle Inspection Division's 2015 annual school bus inspection program.
Cassville R-IV has earned the Patrol's Total Fleet Excellence Award by receiving 100% approval rating with no buses placed out-of-service. 25 buses were inspected by the Missouri State Highway Patrol.
Upon receiving the report from the Highway Patrol, the Missouri Department of Elementary and Secondary Education (DESE) has awarded Cassville R-IV Transportation Department the Exemplary School Bus Maintenance Award.
"These awards are a reflection of the transportation department and especially the mechanics. Whether going to and from school or riding to an activity, we are committed to using the safest buses possible. Transportation mechanics, Jason and Doyle, take a lot of pride in making sure our students are guaranteed a safe bus. The district wants our families to feel comfortable putting their children on one of our buses. Keeping the buses in great shape is just one of the things we can do to ensure our students safety," stated Dusty Reid, Director of Facilities and Operations.
291 Missouri school districts earned an approval rating of 90% or higher. Cassville has received 100% approval rating in years past, however, has not achieved this status in several years.
"This recognition for our mechanics just shows the amount of hard work, dedication and attention to detail they bring to the job each and every day every day," stated Reid.