Richmiller named Outstanding Southwest District Choral Director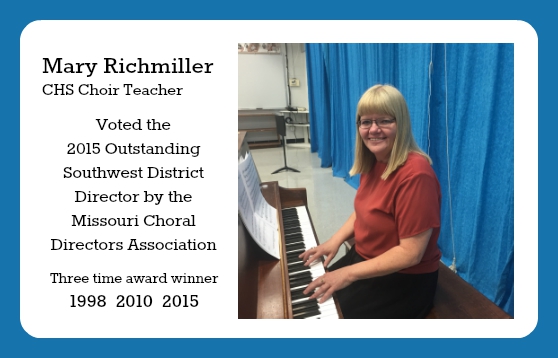 Mary Richmiller, Cassville High School Choral Teacher, was recently selected as the Outstanding Southwest District Director by the Missouri Choral Directors Association (MCDA).
Three nominees were chosen by the club of more than 40 school districts across the Southwest region. After nominees were selected, club members were allowed to vote for the candidate they deemed most worthy. Richmiller was presented with the award during the MCDA Annual Conference in Jefferson City in late July.
"It is quite an honor to be nominated and voted on by your peers in your area," said Willie Grega. Grega serves as the MCDA President and is the Choral Teacher at Parkview High School in Springfield.
2015 marks the third time Richmiller has been selected by her peers to receive this award. She earned the high honor in 1998 and 2010 as well.
Richmiller has served as the choral teacher at CHS for 22 years.
"Nobody loves her students more than Mrs. Richmiller. She strives for perfection each and every day both in the classroom as well as out of the classroom. I am extremely proud of her accomplishments, but I have to admit it is no surprise to me, "said Cassville High School Principal Jeff Swadley.