1986 Alums Return Home to Teach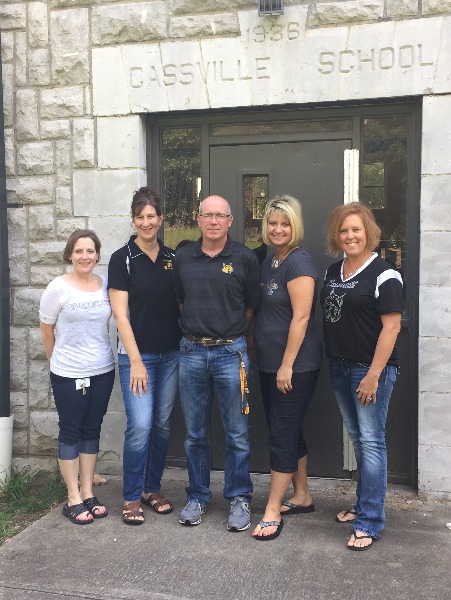 Their song was "Kyrie Elasion" by Mister Mister. Colors: burgundy and silver. Mr. Jerry Marple was the Cassville High School (CHS) Principal and did his best to keep them all in line. Dr. Dan Bailey had just completed his fifth year as Superintendent for the Cassville School District.
The CHS class of 1986 had 80 graduates walk across the stage to receive their diploma and five of them have returned to their alma-matter.
Leisa (Ford) Lasley, Melanie (Ruark) Grossman, Kristie (Davis) Preddy, Shari (Eskildsen) Rhea and Chris Shore have returned "home" to pursue a career in education.
"I enjoyed having each of these students while they were in school. I had the opportunity to work at the Cassville School District for 9 years and I really enjoyed those years. I am glad to see my former students come home. They were all outstanding kids," stated Mr. Jerry Marple, former CHS Principal.
Lasley, CHS Resource Educator, began her teaching career 22 years ago at Cassville. After completing college, she returned to her roots. Mrs. Sharon Farrow's class was one of her favorites. She was also involved in Future Homemakers of America, ran track and played volleyball for the middle school team. Lasley and her husband Brian are proud to call Cassville home and raise their two daughters, Rachel and Abby, as well as their son, Levi, in this close-knit community.
Grossman started her teaching career in East Newton and was excited to have the opportunity to return to her alma-mater this year to teach High School Business. Her favorite high school memory? Going to the football games! Grossman enjoyed playing volleyball, running track and being involved in Future Business Leaders of America, Science Club and the National Honors Society. Grossman and her husband, Randy, along with children Dylan, Reilly and Emerson call Cassville home.
Preddy is a self-proclaimed "technology geek." She served time in detention her senior year for skipping class and hiding in the first computer lab on campus. This year marks the start of her seventeenth year at Cassville. She began her teaching career in Golden City where she taught science for two years. She returned to CHS to teach science before becoming the Primary Guidance Counselor. Like many CHS students through the years, Preddy remembers cruising Main Street every weekend. She was also involved in band.
"Our graduating class was small enough that you felt like you knew everyone, even if you did not share any common activities with them, "said Preddy.
Preddy is married to 1984 CHS graduate, Gary Preddy. They have three children, Michaela, Bob and Grant.
Rhea, voted "Best All Around" in high school, returned to Cassville after teaching in Texas. She has been with the district for 19 years. She currently teaches sixth grade Communications Arts and Social Studies and serves as the coach for the middle school volleyball team. Her favorite memory was building the homecoming parade floats, district wide pep assemblies, playing volleyball, performing with the stage band and marching band and instigating senior pranks. Rhea's husband, Darren, is also employed by the Cassville School District. They have two sons, Kyle and Kris.
Shore, Physical Education teacher and coach, has been a teacher at the Cassville School District for 21 years. He started his teaching career just down the road in Exeter. Shore, voted "best dressed," was known for sneaking into the gym at night to play basketball his senior year. He resides in Cassville with his wife Marla and their two sons, Jordan and Derek.
"Homecoming was a big deal for the entire district," said Preddy. "The students would line up on Main Street and watch the Homecoming parade. After the parade, we would all meet at the high school gym for a district wide pep assembly."
During the weeks before the parade, high school students would create floats for their class and individual clubs.
"That is one tradition I truly miss. It gave all of us, the littlest and the biggest wildcats, a sense of school pride," stated Preddy.
August will mark 30 years post graduation for the class of 1986. With this milestone, many classmates will be reunited for the first time in years at their class reunion. Lasley, Grossman, Preddy, Rhea and Shore, however, work together daily and will be a continued part of the history of the Cassville School District and the success of CHS graduates for years to come.